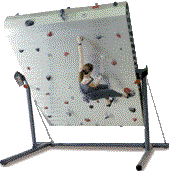 "THE ROCK"
Add a climb on The Rock to your Birthday Party!
Only $1 per climb
The Fun Rock is a climbing wall that rotates and tilts to provide one of the most realistic rock climbing experiences available on a simulator. Climbers can experience the climb of famous rocks without getting more than a few feet off the ground.
Conquer the Mountain
Test your ability to climb all 4 rock faces of a mountain.
Four different mountains to choose from with four rock faces per mountain.
Can you climb the approximately 150 feet to beat a mountain?
There is only one way to find out.
Several famous rock profiles are available to choose from:
Workout rock profiles:
The Rock at Laser Storm Pittsburgh is configured for only one climber at a time